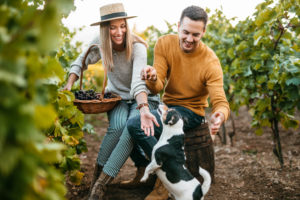 Rabies is a serious virus of all mammals with no known cure. It causes neurological degeneration that ultimately leads to the death of the infected person or animal. Luckily, Rabies can be prevented with vaccination, and New York State requires by law the compulsory vaccination of all domestic dogs, cats and ferrets for the safety of the public. Compliance with Rabies Vaccination Laws is monitored by the New York State Department Of Health.
As part of their Veterinary Oath, our PetCare Team Members are also responsible for the health and safety of the public, and therefore Gerber Small Animal Hospital complies with all aspects of New York State Rabies Vaccination Laws.
We require that all active patients with us maintain up-to-date Rabies Vaccination Certification on file. We do not mind if your pet receives their Rabies Vaccination elsewhere, simply submit to us a copy of their updated Rabies Vaccination Certificate so we may place it in their medical records. Even if you decline all other vaccination for your pet, we are still obligated to have your pet vaccinated for Rabies, and failure to do so may result in your pet being dismissed as a patient at our clinic.
There are only certain instances of severe medical conditions in a pet that would exempt them from mandatory Rabies Vaccination, only a Veterinarian can provide certification for such exemption which needs to be completed at least yearly. A history of their disease must be kept on file and up-to-date in their medical records along with frequent examinations as deemed appropriate by our veterinary staff.
We cannot provide Rabies Vaccination Certification if we did not personally provide such vaccination for your pet, so if you do get your pet's Rabies Vaccination someplace other than Gerber Small Animal Hospital, please be sure to get a copy of the Rabies Vaccination Certificate from the provider, and keep it on file with us and at home. We will not be able to replace lost Rabies Vaccination Certificates if we did not provide vaccination or have a copy of your pet's certificate on file.
Click Here To Read The "What Pet Owners Need To Know About Rabies Vaccinations In New York State" fact sheet required to be disclosed to all pet owners upon purchase or adoption of a new pet
New York State Rabies Laws Require All Owners Of Dogs, Cats, And Ferrets:
To get their pet's first Rabies Vaccine at 4 months of age. This first-time Rabies Vaccination is only good for a duration of 1 year.
To have their pet vaccinated again no later than 1-year after they received their first Rabies Vaccination. If your pet has had a lapse in Rabies Vaccination, then the vaccine must be given again no later than 1-year after the first vaccine post-lapse, regardless of prior vaccination history.
To maintain their pet's Rabies Vaccination current on a 1-year or 3-year Rabies Vaccination protocol after their first two vaccinations in accordance with the type of Rabies Vaccine provided at the time of vaccination with no lapse in vaccination coverage from year-to-year.Some Rabies Vaccines are manufactured only for a duration of 1-year efficacy, and these vaccines need to be provided annually. Other manufacturers produce Rabies Vaccines with a duration of protection of 3-years. You will need to discuss with your Veterinarian which vaccine protocol is right for your pet, or what vaccine type was provided by any vaccine clinic you have visited with your pet. Your pet's Rabies Vaccination Certificate will also verify which type of vaccine was given, and when your pet requires re-vaccination.
To have visible on their pet's collar a designated "Rabies Tag" signifying vaccination when the pet is out in public. "Rabies Tags" does not replace the necessity of a Rabies Vaccination Certificate or substitute for a certificate.
To have available at all times for inspection their pet's veterinary signed Rabies Vaccination Certificate.
Because we understand the importance of providing quality veterinary care and preventing serious public health diseases such as Rabies, we include Rabies vaccination in our Healthy Pet Vaccination Packages. Thank you for being a responsible pet owner and having your pet vaccinated against Rabies!